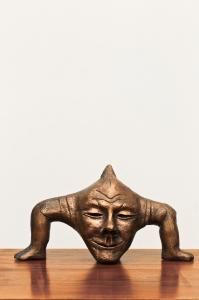 Zefat, December 13, 2013.
A photo of "Head Walking" - an original Bronze sculpture by the artist Rachel Hershkovitz, was selected as logo for the Annual convention of the Association for the Advancement of Psychosynthesis (AAP). The AAP are preparing our annual conference for 2014, which will occur on June 21, 2014, summer solstice. The name of the Conference, which will be a webinar, featuring three of the top psychologists of our time, is BodyWise. Its Steering Committee has been admiring, and are delighted by the "Head Walking" sculpture, and decided to use the photo of Rachel's sculpture as the conference logo. This is an international conference that will be broadcasted to Europe, North America, Australia, and New Zealand.

Rachel Herskovitz says: "I appreciate the selection of this work as logo for the AAP conference. It is another good example of my expressive artwork."

For more information about Rachel's artwork please look at ...